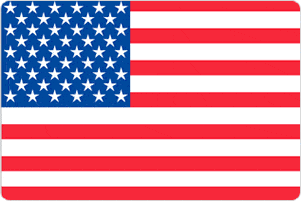 Located 64 km from Detroit, the city of Ann Arbor is one of the most beautiful in Michigan. In 1824, John Allen and Elisha Walker Rumsey first established the city on the banks of the Huron River. Due to the convenient location in the Great Lakes area, Ann Arbor has seen a great economic boom and a large population increase. Today, the city is home to one of the leading universities in the united states, the University of Michigan. The city projects small town flair paired with the sophistication of a big city. It is home to many diverse neighborhoods and people from a variety of different backgrounds and cultures. Ann Arbor is among the leading centers for education, therefore, the ideal place to take your TEFL/TESOL course.
Even though Ann Arbor is not a large city, it is very popular for its unique entertainment facilities. There are countless opportunities to indulge in local culture and the arts at the city's numerous arts shows and concerts that take place throughout the year. Many galleries, museums and bookstores can be found in the city center, including the popular University of Michigan Museum of Art. Ann Arbor is also home to over 300 different restaurants and eateries offering the best local and international delicacies. From Italian pizzerias to classic American diners, Ann Arbor has got it all! During music festivals and art exhibitions, many of these restaurants offer outside dining turning the city into a glamorous nightlife hot spot.
Ann Arbor holds a variety of different fairs and celebrations throughout the year. The Ann Arbor Art Fair and University of Michigan football are among the most popular events. If you are looking for a unique crafts exhibition in the middle of the city, the Ann Arbor Art Fair in July is a must. During the fair, thousands of local and international artists flock to the city to showcase their works and crafts in this open-air event. In the fall months, the Michigan Wolverines lure in football fans from all corners of the country who come to "The Big House" to watch a professional game. Premier hiking trails, golf courses, kayaking on the Huron River and even cross-country skiing make Ann Arbor the ideal destination for prestige leisure activities and entertainment in all four seasons.
The combination of four-season outdoor activities, natural beauty and fine arts make Ann Arbor a premium vacation destination. Therefore, it goes without saying that this beautiful city in Michigan is among our most popular TEFL locations. Our training center provides all the facilities necessary and is the perfect stepping stone towards your new and exciting career in ESL teaching. Our teacher trainers guide you from step one and will assist you with job hunting to find your most suitable teaching position worldwide. Why not come to Ann Arbor and obtain your internationally recognized TEFL/tesol certification?
Register now & get certified to teach english abroad!
The School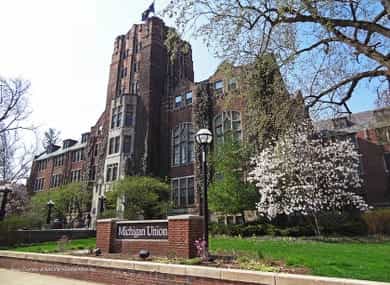 The city of Ann Arbor is the ideal place to take your TEFL/TESOL course. The area is surrounded by a selection of lakes offering excellent outdoor opportunities in a stunning natural landscape. Due to the city's proximity to these lakes, the city is also referred to as "North America's Fresh Coast". Besides the lakes, the city also features dune lands as well as majestic cliffs. Our trainees will have the opportunity to experience all that Ann Arbor has to offer in their free time.
Our training center is located in a modern building, right in the heart of the city. During your course, our experienced teacher trainers will provide helpful feedback and guide every trainee towards their goal. You can be sure to become a fully qualified ESL teacher upon completing our TEFL/TESOL training course.
Due to our central location, you will have easy access to Ann Arbor's most interesting sites. Be sure to take the Blue Coast Artists Cultural Heritage Tour to get a close look at local artworks, wineries and farms. Architecture enthusiasts will appreciate the Italianate facades of 1860s-era commercial buildings and the famous 43-foot red sculpture symbolizing Ann Arbor's artistic spirit.
Due to the small class sizes at our training center, each trainee will receive a significant amount of individual attention from our teacher trainers. Before graduating, trainees will also get to teach independent classes to gain valuable teaching practice. These classes are held in the third week of the course on Wednesday from 5:30 p.m. to 10:00 p.m., and on Saturday and Sunday from 9:00 a.m. to 5:00 p.m.
Accommodation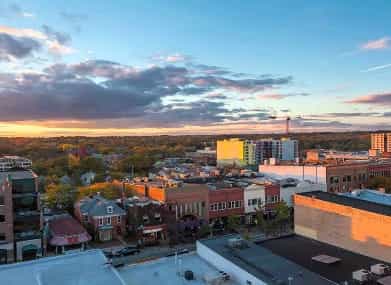 Many thousands of visitors come to Ann Arbor from near and far each year to enjoy all that the area has to offer. Due to the excellent educational programs in the city, Ann Arbor is also home to a large number of students. To serve these long and short term visitors you will find there is a wide variety of hotels and other housing options for you to choose from.
We can highly recommend two of the best hotels that are located close to our training center. The Bell Tower Hotel is a reasonably priced traditional style hotel which offers complimentary breakfast and Wi-Fi access. Our other recommended option is the Wyndham Garden Ann Arbor which includes free breakfast and Wi-Fi. This comfortable hotel also has a swimming pool and café.
Please don't hesitate to contact us for more information on these and other housing options for your stay in Ann Arbor. We can recommend accommodation to suit most budgets.
Course dates

Coming soon...
We are presently in the process of establishing a new course in Ann Arbor Michigan and therefore there are currently no dates available for this location. We anticipate that the course should be running here within the next 6-8 months. If you would like to attend a course at this location, please let us know and we will send you full information you as soon as the course dates are finalized.
Please check out our other course locations if you wish to attend a course before this one becomes available...
Course fees
The total price is divided into: deposit and balance.
The deposit may be paid via a) credit card b) Paypal c) wire transfer d) Western Union.
The balance of the course fee must be paid by cash, PayPal or bank transfer directly to the training center on the first day of the course.
Deposit
US$ 700
to be paid in advance
+
Balance
US$ 595
to be paid on arrival
Accomodation Fees
The accommodation fees are not part of the course price and you are free to choose whichever accommodation option you prefer.
You are not obliged to use the accommodation provided by the school and you are welcome to make your own accommodation arrangements. If you choose to use our accommodation, it should be paid for either by cash, PayPal or bank transfer directly to the school at the start of the course.
per night
US$ 69
(to be paid on arrival)
To be booked directly through Motel 6