TEFL Certification Online

TEFL is an acronym that stands for Teaching English as a Foreign Language. It is used to describe a variety of situations where the English language is being taught to non-native speakers of English. You might also come across a few other acronyms that are used in much the same way, such as TESOL (Teaching English to Speakers of Other Languages), TESL (Teaching English as a Second Language), and ELT (English Language Teaching). Despite having small technical differences, these acronyms are often used interchangeably within the teaching world.
Every year the number of people who take up English language study grows enormously leading to a continuous need for more and more qualified teachers. At ITTT our goal is to help anyone who wants to take advantage of this ever expanding opportunity by offering accredited online TEFL courses that provide all the specialist skills and knowledge required to become a qualified teaching professional.
Apply now & get certified to teach english abroad!
TEFL certification
Regardless of where you would like to work, the international standard for teaching English to non-native speakers is known as either a TEFL or TESOL certificate.
In terms of teaching English abroad, both certificates are identical and are accepted worldwide. However, on a technical level TEFL refers to teaching English in countries where English is not the native language and TESOL refers to teaching English in countries where English is the native language.
In previous years it has often been possible to secure a teaching position simply by virtue of being an English speaker. However, this is no longer the case as most employers around the world now expect teachers to be qualified to teach in the classroom. A TEFL qualification is also now a requirement when applying for a work permit or visa in many of the most popular countries for teaching English abroad.

Apply now & get certified to teach english abroad!
Am I eligible to take a TEFL course?
Due to the large and widespread demand for EFL teachers around the world, there are few restrictions on who can embark on a TEFL certification program. To sign up for a course with ITTT you must be at least 18 years old, however, there are no upper age restrictions.
The most important requirements for taking a TEFL course are a strong desire for new experiences and a willingness to embrace new ideas. If this sounds like you, then there is nothing to stop you from joining the thousands of trainees who have become TEFL certified via one of our internationally accredited Online courses.
It is not necessary to have a university degree to take any of our courses. Although some countries do have restrictions that require teachers to possess a degree in order to qualify for a work permit or visa, there are plenty of popular destinations that have no such requirements.

Apply now & get certified to teach english abroad!
You will also find that a few countries have restrictions on hiring non-native English speaking teachers. However, there is no shortage of other great options that are open to native and non-native speakers alike. With this in mind, all of our courses are open to anyone as long as they have a good standard of written and spoken English.
Equally, there is no need to be familiar with the local language regardless of where you choose to teach. All our courses are based on the communicative approach to language teaching which stipulates that English is the only language used in the classroom.
What kind of people become English language teachers?
Due to the wide range of opportunities available to those with a TEFL qualification, there is no single demographic that sums up those who choose to become EFL teachers.
People of all ages and backgrounds embark on a teaching career for all manner of different reasons. Whether it is the excitement of travel to exotic destinations or the chance to make a fresh start away from the tedium of the modern world, online TEFL certification provides the perfect opportunity.
At ITTT we are committed to turning your dreams of a new teaching career into reality, regardless of your future plans.

Apply now & get certified to teach english abroad!
Where can I teach English abroad?
One major benefit of completing an online TEFL certification is that it gives you access to a wide range of job opportunities in countries throughout the world.
With a teaching qualification on your CV/resume you can choose one of many different paths, from volunteer teaching in remote parts of Africa, Asia or Latin America to opening your own language school at home or abroad.
You can also use it as a means of earning some spending money while travelling the world, while for others it is the first step on a long and lucrative career as a teaching professional. Whatever your long-term goals, you will find plenty of places around the world to start your journey.
Below you will find a guide to some of the most popular international teaching destinations.

Apply now & get certified to teach english abroad!
How to get TEFL certification
As there are a variety of Online courses available, it is important that you choose the right one to suit your own personal situation.
For those in a real hurry, we offer short-format online TEFL certification that consists of 60 hours of study. This course is specifically designed to provide a clear insight into EFL teaching which is more than adequate if your plans are to volunteer teach on a short-term basis.
If you are looking for something a bit more long-term that has the potential to pay a decent salary, then you should probably choose a more advanced qualification. Our 120-hour online TEFL certification course has been designed to cover all the topics you need to start a teaching career, including classroom management, assessment strategies, and a wide range of English grammar subjects.
As long as you have access to the internet, you can complete either course from anywhere in the world at any pace you choose. In addition, you can opt for the assistance of an experienced online tutor who will provide all the help you need to successfully complete your studies. By choosing the tutored option, you will also have access to a range of instructional videos that add extra meaning to the written materials.
For full information on our standard online TEFL courses, please visit our online TEFL course page.
After completing a standard TESOL certification course it is common for graduates to then add extra qualifications to their portfolio in order to widen their job opportunities. There are three specialized areas of ESL teaching that are particularly popular in many parts of the world and the following courses have been specifically designed to suit them:
Once you have successfully completed your initial TEFL certification course you might want to further improve your job options by taking one or more specialized certificate courses. These courses focus on the most popular specialist fields in EFL teaching worldwide and by completing them you will greatly enhance your skills, knowledge, and employability:
Certificate in Teaching English to Young Learners (CTEYL)
Certificate in Teaching Business English (CTBE)
Certificate in Teaching English Online (CTEO)
All three of these options are 50-hour courses that can be completed 100% online at whatever pace you are happy with. The subjects covered are specifically designed to follow on from a standard TEFL course, which means you can increase your qualifications quickly and efficiently.
For further information, please visit our specialized TEFL course page.
Advanced TEFL courses
For anyone who is looking to add a higher level of qualification to their teaching portfolio, we also offer an advanced 250-hour TEFL Diploma course.
This research based course is completed via 100% distance learning and results in a qualification that allows you to apply for management level positions within the language teaching sector.
Apply now & get certified to teach english abroad!
For further information, please visit our TEFL Diploma course page.
TEFL course packages
In order to provide the most comprehensive and value for money TEFL training possible, ITTT has put together three great course packages that will get your teaching career off to a flying start.
Our three course packages are:
220-hour Master Package
470-hour Professional Package
550-hour Expert Package
All three course packages include the 120-hour online TEFL certification course, the 50-hour course in teaching business English (CTBE) and the 50-hour course in teaching English to young learners (CTEYL).
Advanced
Course
Specifications
220 Hour Master Package

With Tutor Support and Video

250 Hour Diploma Course

With Tutor Support

Technical Support
Supplementary Materials
Free Lesson Plan Access
Grammar Units
Phonology Units
Video Lessons
Full Tutor Support
Free Course
CTEO

CTBE,CTEYL,CTEO

Job Guidance
Lifetime
Lifetime
120-hr Course + Videos
CTBE Course
CTEYL Course
Diploma Course + Tutor
PDF Certificate
Embossed Certificate
Internationally Accredited

US$ 699

US$ 399

more infoapply now

US$ 1390

US$ 599

more infoapply now

best
value
For further information on our Master Package, please visit our online course page.
Apply now & get certified to teach english abroad!
On top of these three courses, the Professional Package and the Expert Package include our advanced 250-hour TESOL Diploma course. In addition, the Expert Package also comes with the 50-hour course in teaching English online (CTEO) and a 30-hour certificate of teaching practice recognition (CTPR).
Both packages come with the option of an online tutor to help guide you through your studies.
You can also choose how you receive your certification. You can opt to receive a single certificate that covers all sections of the package, or an individual certificate for each course you complete.
Pro
Course
Specifications
470 Hour Professional Package

No Tutor

470 Hour Professional Package

With Tutor Support and Video

Continuous Assessment
Internationally Accredited
Embossed Certificate
Letter of Recommendation
Supplementary Materials
Free Lesson Plan Access
Teaching Skills Units
Grammar Units
Phonology Units
Video Lessons
Full Tutor Support
Part research based
Overall 44 course units
Technical Support
Free Course
CTEO
Job Guidance
Lifetime
Lifetime
CTBE Course
CTEYL Course

US$ 990

US$ 699

more infoapply now

US$ 1298

US$ 799

more infoapply now
For further information on our Professional Package and Expert Package, please visit our TEFL Diploma course page..
Teaching English online
TEFL qualified teachers have plenty of options when it comes to finding a job, but teaching English online is probably the fastest growing area of employment right now. The rapid growth in this field of TEFL is driven by a large increase in demand from right across the globe as access to live classrooms can often be inconvenient or simply not possible. As well as the increased demand, teaching English online is extremely popular as you can work from any location in the world and you have a much bigger say on when and how much you teach.
To ensure our trainees can take advantage of this booming area of English language teaching we have designed a unique certification course that is ideal for any teacher who wants to work online, whether full time or just to earn some extra cash on the side. By completing our specialized online teaching qualification you will gain all the skills needed to be successful in any EFL classroom situation, with a special focus on skills and techniques that are unique to a virtual teaching environment. If the increased freedom of teaching online appeals to you, take a look at our 170-hour TESOL certification course with online specialization.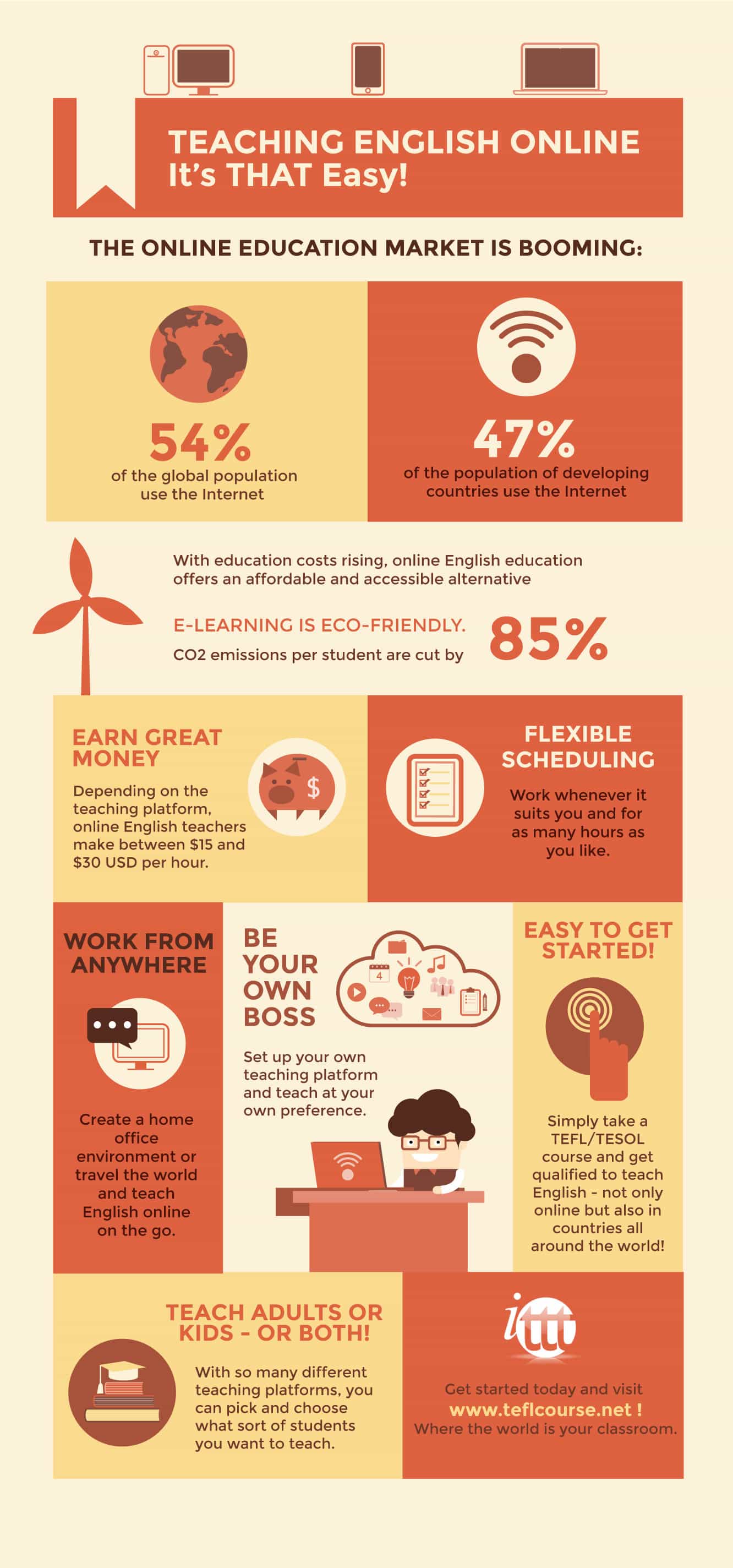 Other TEFL course options
One of our main goals at ITTT is to provide course options to suit as wide a range of needs as possible. As well as the courses outlined above, we also have an Observed Teaching Practice (OTP) course for TEFL graduates who would like to add a teaching practice component to their portfolio but are not in a position to visit a training center.
Our unique OTP option requires no attendance at a training center and is therefore completed entirely online.
For further information, please visit our CTP courses page.
Apply now & get certified to teach english abroad!
TEFL Jobs
Once your TEFL training has been completed you can then start applying for teaching positions anywhere in the world, including within your home country.
Asia is always a popular choice due to the large number of jobs available. Demand for teachers in China is so high that you can generally pick from multiple job offers. Other popular destinations such as South Korea, Thailand, Japan, and Vietnam all offer plenty of jobs throughout the year.
Latin America is another popular choice due to a strong demand for teachers and a low cost of living. There are many great destinations to consider across Central and South America, including Mexico, Costa Rica, Brazil, Chile, and Argentina.
The modern infrastructure and popular culture of Europe also attract a large number of teachers to countries across the continent. In the west, destinations in Italy, Spain and France are among the most popular. However, more and more teachers are now looking towards Central and Eastern Europe where jobs are abundant and living costs significantly less.
If your prime motivation for teaching overseas is to earn as much as possible, then you might want to consider the Middle East region. Countries such as Saudi Arabia and the United Arab Emirates routinely offer high paying positions with a range of extra benefits thrown in. However, it is worth noting that experience and qualifications are usually required for the most sought after jobs.
For further information on the international TEFL job market, please visit our TEFL jobs page
Apply now & get certified to teach english abroad!
You can also visit our tips for teaching abroad page which hosts a wide ranging collection of information regarding countries worldwide where you might consider teaching English. The individual sections for each country contain all kinds of facts and figures, language and culture guides, tips for travel, and lighthearted content that you might find interesting before you start your journey.
Why choose ITTT?
A simple online search for TEFL certification will bring up a multitude of options. So why should you choose ITTT? As one of the longest established course providers in the field of TEFL training, we believe there are many reasons why we offer the best TEFL certification:
Our wide range of high-quality courses are designed to suit the needs of students in a variety of situations.
Regardless of the course you choose, you are guaranteed to receive the same high-standard of study materials, tuition and support.
Our inclusive courses are open to anyone over the age of 18 providing they have a good level of English language comprehension.
We provide wide ranging support services to all our trainees both during their training and after they have graduated from their course.
All our graduates can take advantage of our extensive post-course job support services for as long as they require them.
We have regular special offers that often include additional free TEFL certification courses when you sign up for a popular course program.
If you sign-up for our in-class course you can choose from a wide range of exotic and exciting locations in all corners of the world.
In-class course trainees also benefit from extensive teaching practice with local language learners, all under the guidance of highly experienced teacher trainers.
If you choose an online course you can study from any location in the world at any pace you prefer.
Our online TESOL certification programs do not involve any formal exams as they are assessed via automated online tests.
ITTT is affiliated to and accredited by several leading individuals, institutes and schools in the field of English language teaching.





With all these reasons in mind, we are confident that ITTT offers the very best a TEFL certification currently available. However, you do not need to simply take our word for it. Our TEFL certification reviews page gives you the chance to hear what our graduates have to say about their own experience completing a TEFL certification with ITTT.
The following video also offers an interesting insight into our courses as it features newly qualified teachers from all over the world speaking about their own TEFL journey, from the initial training to finding work and beyond.