If you are looking for a good way to earn some extra cash during a gap year or you are simply bored of the daily nine to five routine and you need a change of direction, teaching English as a Foreign Language (TEFL) could be the perfect solution. Every year, tens of thousands of people of all ages and backgrounds set off overseas to work in classrooms of all shapes and sizes in every corner of the globe. If you want to join this number, either for a short term trip or something more permanent, the most important ingredient required is to possess an internationally accredited TEFL certification.

Online TEFL courses at a glance
This qualification will open up a wide choice of job options in almost any country you can think of and give you all the skills you need to confidently stand in front of your own class ready to pass on your English language knowledge. Unsurprisingly, in this age of high-speed and widely available internet, online TEFL courses are the most popular method of gaining the qualifications required to get started on a new life teaching English abroad. Take a look at our online TEFL course options and get the ball rolling today!
Register now & get certified to teach english abroad!
Our 120-hour TEFL certification course is our most popular online course option as it results in a qualification that is welcomed by the vast majority of employers worldwide. The course covers all the essential subjects you need in order to find a good quality teaching job that pays a competitive salary in a reputable school or language center. One other major advantage of this option is that it can be taken from anywhere in the world with an internet connection. You also get to choose your own study schedule, so you can fit the course around any existing commitments such as work, family, or a busy social life. If you are in a big hurry to get your new teaching career underway, it is possible to complete the course in just a few weeks. However, if you would prefer to take things a bit slower, you have up to six months to work your way through the materials. Tens of thousands of people have taken this route into teaching English abroad and there is nothing to stop you joining them.
Register now & get certified to teach english abroad!
Options for volunteer English teaching

Tutor Support
All our online TEFL courses come with online tutor support. Throughout your training you will have access to the extensive knowledge and experience of an online tutor for the duration of your studies. All of our online tutors are highly qualified teaching professionals who have taught in various countries and classroom environments right across the world. Having the assistance of a tutor when studying online can be a real advantage as it is a very different learning experience than standard classroom based lessons. Many people also prefer having a tutor available simply because it is reassuring to know that you have someone to turn to if you come across any issues or questions during your training. Ultimately, having the guidance, encouragement and years of know-how that a tutor brings can make a huge difference to the overall learning experience for many trainees.
Register now & get certified to teach english abroad!
Expand your CV/resume with a specialized TEFL course
Once you have completed a standard 120-hour TEFL certification course you might want to consider boosting your job options by adding one or more specialized qualifications to your CV/resume. Many course graduates choose to study additional courses as they can often broaden your opportunities and potentially allow you to earn a better salary. ITTT currently offers three different specialized TEFL courses that prepare you to work in areas of EFL teaching that are rapidly growing in demand. If you like the idea of working with younger students, our Certificate in Teaching English to Young Learners (CTEYL) will set you up with all the specific skills and knowledge needed to be successful in classrooms containing students aged anywhere from three to eighteen years old. As this age group makes up a large proportion of worldwide English students, the CTEYL could be your passport to the top jobs in your ideal classroom environment.
Register now & get certified to teach english abroad!
If you would prefer to teach adult students or you have a background that is in any way business related, our Certificate in Teaching Business English (CTBE) could be a great option for you. Teaching business related English is another area of TEFL that is really booming right now and this course will give you all you need to gain access to this potentially lucrative sector. Our third specialized TEFL course option is the Certificate in Teaching English Online (CTEO). Many of our graduates choose this course option as it allows you to teach students from all over the world without leaving your home. If you are not quite ready to teach English overseas or you have existing commitments that prevent it, then teaching English online is a great way to start your new career as an English language teacher.
Register now & get certified to teach english abroad!
Learn to teach English from home with an online teaching course
Although many people take a TEFL course with the intention of heading overseas to live and work, some people are not in a position to do so due to work, study or family commitments. Luckily, this does not have to get in the way of your new career as a TEFL qualified teacher as the market for online English language teachers is growing year after year. If you want to take advantage of this opportunity to work from anywhere in the world with only a computer and an internet connection required, then our specialized Course in Teaching English Online (CTEO) could be the ideal choice for you. This 50-hour short-term course is specifically designed to build on the skills and knowledge that are covered in a standard 120-hour TEFL course, by looking at the specific nature of teaching English in a virtual classroom. Due to high demand, online language teaching typically has few restrictions on teachers, so having previous experience or a degree is often not necessary. Online language teaching could well be the future of TEFL, so why not get in on the ground floor?
Which platforms hire online English teachers?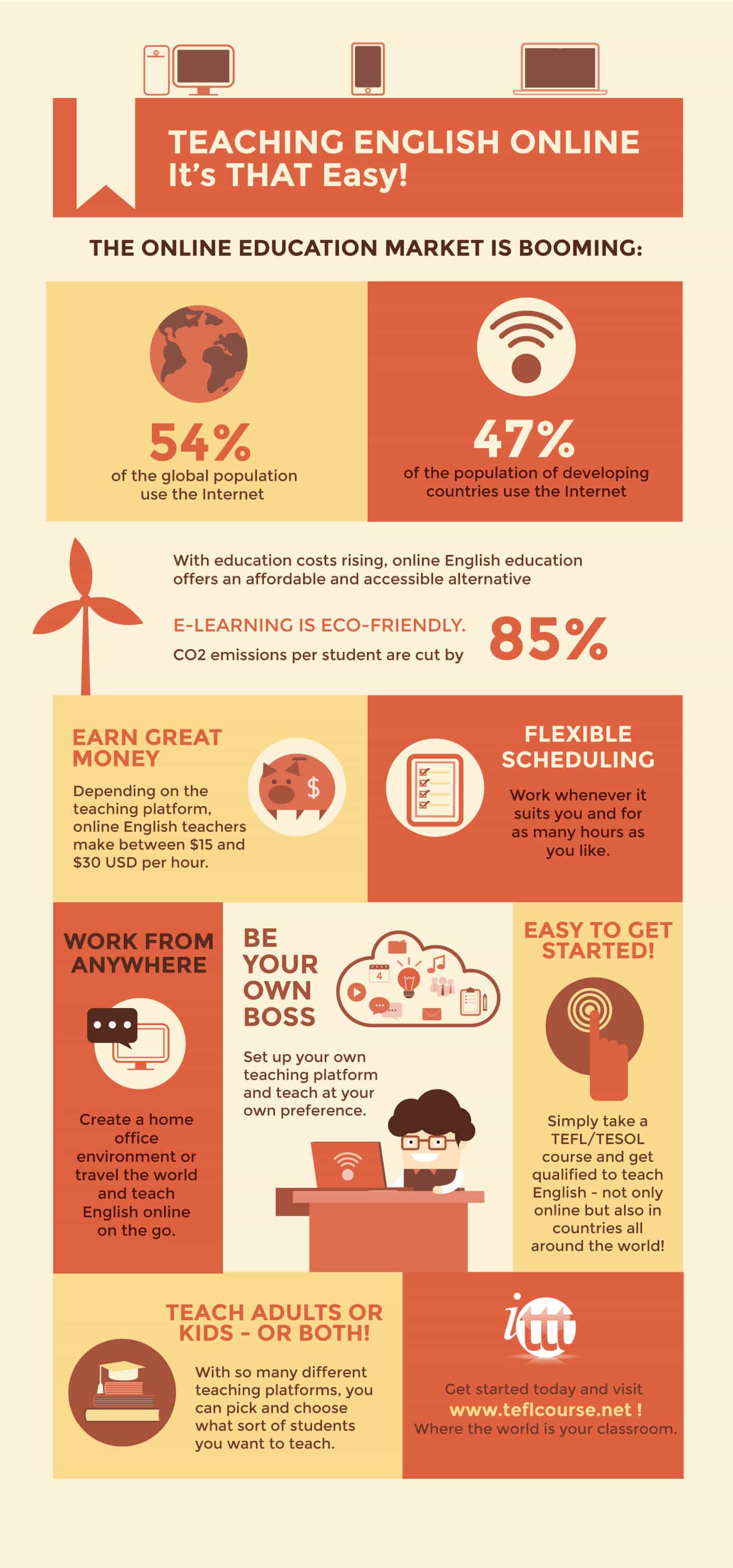 Take a step up the ladder by completing a Diploma in TESOL
If you would like to expand your employment options by adding an advanced level qualification to your job applications, take a look at our Diploma in TESOL. This 370-hour course is completed 100% online and involves a significant amount of research based learning and individual study. By completing this course you will open up a whole new avenue of potential jobs that could offer higher salaries, greater responsibilities, and the chance to advance further up the employment ladder. If you see your ESL teaching career as more than just a gap-year adventure, the Diploma in TESOL could be just what you need to turn a short term way of earning a bit of extra cash into a serious teaching career.
Register now & get certified to teach english abroad!
Hit the ground running with a multicourse TEFL package
As the world of TEFL includes teaching jobs across a wide variety of environments it can be a real advantage to have more than just one certification to put on your job applications. One great option is to sign up for a multicourse TEFL package that will really set you up for success, no matter how long you plan to teach for. With a package of courses you will get all the basic training required by every new English language teacher, plus additional courses that will broaden your appeal to employers and widen the scope of jobs available to you. The first of our packages is the 220-hour Master Package that includes the standard 120-hour TEFL certification course, plus two 50-hour specialized TEFL courses. These added courses are the Certificate in Teaching English to Young Learners (CTEYL) and the Certificate in Teaching Business English (CTBE). With this package you will gain all the skills, knowledge, and certification you need to apply for well-paid teaching jobs right across the globe.
Register now & get certified to teach english abroad!
If you want to leave no stone unturned in your quest to become the very best TEFL qualified teacher you can be, our 550-hour Expert Package could be just what you are looking for. With this option you get all our most popular courses in one great value pack. You start off with the 120-hour TEFL certification course and then work through five more courses in any order you choose. These courses are the CTEYL, the CTBE, the Diploma in TESOL, the 50-hour course in teaching English online (CTEO), and an optional teaching practice component. With all these respected and highly relevant qualifications under your belt your job prospects will be without limit in most corners of the world.
Register now & get certified to teach english abroad!
Teaching practice certification without attending a training center
In some cases, employers prefer their candidates to have experienced life in a classroom via a previous job or practice lessons that are part of their initial TEFL training course. Even if it is not a requirement, having this experience can often be a real advantage during the job hunting process. In the past this would have meant attending a training center for several weeks, which is not financially viable or logistically possible for everyone. However, thanks to the advancement and wide availability of the internet this is no longer the only way to obtain official acknowledgement of your practical teaching skills. While this might sound like an unusual concept, it is now possible to complete a TEFL certification course with Observed Teaching Practice (OTP) 100% online.
Top tips for taking an online TEFL course
As well as satisfying potential employers that you have the skills required to be a productive EFL teacher, completing a teaching practice course before starting a new job will give you confidence in your own abilities and reassure your students that you have their best interests at heart. If you would like all these benefits and have yet to start your TEFL journey, the good news is that ITTT offers our course graduates the chance to complete OTP as a free option with most of our online courses. There are two different methods for how the lessons are undertaken and verified:
Option 1: You can find a school or language center of your choice (either in-class or online) and teach your lessons there. The school will sign off that you have completed these lessons and your documents will be sent to ITTT for verification.
Option 2: You can find your own student/s and teach the lessons independently at a location of your choice, either face-to-face or remotely. You will need to video one of these sessions (1 hour) and send it to ITTT with your other documentation for verification.
Different types of English language teaching jobs
Need more information?
If you have any questions or require any assistance choosing the right course to suit your individual needs, don't hesitate to contact our friendly and helpful online team. Our Contact Page offers many ways to link up, including our simple contact form, several phone lines, and online message apps. You can even arrange for us to call you at a specific time that suits your schedule. Whatever your future teaching goals we are confident that we have it covered via our wide range of convenient online TEFL certification courses.
Register now & get certified to teach english abroad!
---
---