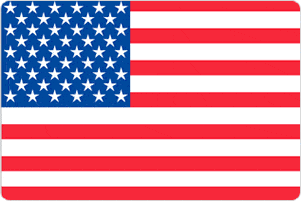 The unique and exciting city of Las Vegas has been dubbed the 'Entertainment Capital of the World', a title that is enough to draw millions of visitors from right across the world every year. Well known for its large number of casinos and spectacular resorts, the city also has hundreds of bars, nightclubs, theaters and restaurants in every size and style imaginable to keep people entertained. Vegas is located within the Mojave Desert in the southwestern state of Nevada, so it can boast a warm and dry climate for most of the year, which is yet another part of its appeal. If completing a TEFL/TESOL course in a sunny city where fun is always high on the agenda, then Las Vegas is probably the perfect destination for you.
Ever since the 1950s, Las Vegas has been drawing large crowds of thrill seekers with an ever-growing list of world famous casino resorts, such as Caesars Palace, the Mirage, the Palazzo and Bellagio, to name but a few. Although the gaming halls of the city's casinos are still at the center of the nightlife, there are also many other attractions on offer. Any night of the week you will find an eclectic mix of entertainment on offer, from Broadway shows to magic extravaganzas, from live music to major sports events. For those who have spent too long at the roulette wheel, there are also several free attractions that have been made famous in a variety of movies and TV shows, such as the Fountains of Bellagio, the erupting volcano at the Mirage and the Fall of Atlantis show at Caesars Palace.
Away from the bright lights of the casinos, Vegas is equally well known for its extraordinary shopping malls that not only contain vast numbers of stores selling everything you can possibly imagine, but also have extravagant themes such as the canals of Venice or the streets of Paris. This unique retail experience is just one of the many reasons why Las Vegas continues to be one of the most popular city destinations anywhere in the world. If you like to have fun in the sun, where the pursuit of entertainment is at the top of everyone's list, then why go anywhere else?
Register now & get certified to teach english abroad!
The School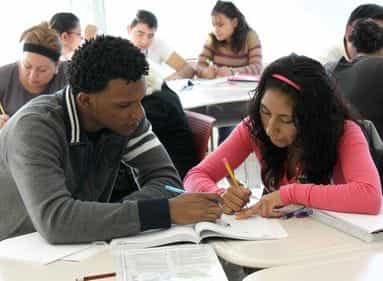 Las Vegas provides a fun and exciting venue for our TEFL/TESOL certification course, and thanks to our central location you will never be far from the action. Many of the city's highlights are within walking distance or you can take a ride on public transport that links us to all points in the city, including the Las Vegas Strip, the Fremont Street area, and McCarran International Airport. As we are located close to the downtown area, you will find plenty of cafés, restaurants and various shops within easy reach of the school.
The school that hosts our training course is a modern language center that has multiple, air-conditioned classrooms that are fully equipped with everything necessary for language learning, such as Wi-Fi internet and extensive teaching resources. During the course our classes usually run from 5:30 p.m. to 10:00 p.m. Wednesday to Friday and from 9:00 a.m. to 5:00 p.m. on Saturday and Sunday. To give our trainees the full benefit of our trainers' knowledge and experience, all our courses in Las Vegas are limited to a maximum of ten participants.
Accommodation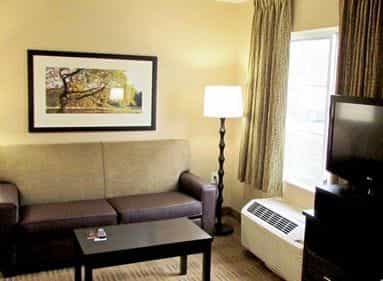 As the city is home to 15 of the largest 25 hotels in the world according to room numbers, Las Vegas is certainly not short of accommodation. Of course, one of the world's top casino resorts might not be the ideal choice for your budget, so luckily there are plenty of other affordable options available. One of these, located within the vicinity of the training center, is a recently renovated complex of apartment-style rooms that has been used successfully by many of our trainees.
The most popular feature of this complex is the fully equipped kitchen that is included in every room. All dishes, cutlery and cooking utensils are included, along with a refrigerator, stovetop, microwave and coffee maker. During your stay you will have full use of the swimming pool and fitness center, plus a complimentary breakfast every morning. Additional services such as Wi-Fi internet and laundry facilities are also available on-site. Once our Las Vegas center receives confirmation of your place on a course they will contact you with further information regarding accommodation.
Course dates

Coming soon...
We are presently in the process of establishing a new course in Las Vegas Nevada and therefore there are currently no dates available for this location. We anticipate that the course should be running here within the next 6-8 months. If you would like to attend a course at this location, please let us know and we will send you full information you as soon as the course dates are finalized.
Please check out our other course locations if you wish to attend a course before this one becomes available...
Course fees
The total price is divided into: deposit and balance.
The deposit may be paid via a) credit card b) Paypal c) wire transfer d) Western Union.
The balance of the course fee must be paid by cash, PayPal or bank transfer directly to the training center on the first day of the course.
Deposit
US$ 700
to be paid in advance
+
Balance
US$ 595
to be paid on arrival
Accomodation Fees
The accommodation fees are not part of the course price and you are free to choose whichever accommodation option you prefer.
You are not obliged to use the accommodation provided by the school and you are welcome to make your own accommodation arrangements. If you choose to use our accommodation, it should be paid for either by cash, PayPal or bank transfer directly to the school at the start of the course.
per night
US$ 69
(to be paid on arrival)
To be booked directly through motel 6