Check out our Special
Offer for this
course!
Make a deposit payment to secure your place on a course before the end of the month and qualify for a free advanced level online course. You can choose from the 50-hour young learners (CTEYL) or business English (CTBE) certificate courses or the 250-hour online diploma course.
TEFL Courses in Siem Reap | Cambodia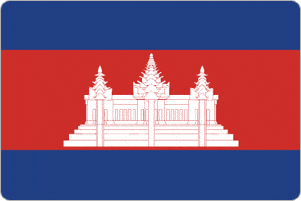 Cambodia's long history and fascinating culture easily make it one of the most interesting countries to visit in Asia. The temples of Angkor Wat have been a UNESCO World Heritage Site since 1992 and are probably the most popular location in the country, with over 2 million annual visitors. Not only does it have countless historic sites and landmarks, but also wonderful natural sceneries.
Due to its close proximity to Angkor Wat, the city of Siem Reap is the largest tourist stronghold in Cambodia. Thousands of years ago, the local people started building advanced structures and set the foundation of Angkor Wat. Many years later, when American historian Frank Vincent Jr. came to explore the temple complex in 1872, he also set up camp in Siem Reap. While he had to travel to Angkor Wat by elephant, today's travelers choose the moto or tuk-tuk. Either way, millions of visitors took Vincent as an example and choose Siem Reap as their base while exploring the country.
It is no wonder that there are numerous types of accommodation you can choose from in Siem Reap. The city has established a tourist housing sector for all budgets and tastes with the comforts of Western homes. On top of that will you have little trouble overcoming the language barrier due to the English speaking staff at many restaurants, hotels, bars and stores in town. The public transit network in Siem Reap is very well connected and finding your way around the city and its surroundings will be an easy task. People mostly choose the local tuk-tuks, for $1-2, or the cheaper motos. Adding to that the low cost of living in the country even lets you have a comfortable lifestyle in Cambodia. This doesn't mean that you won't find luxurious spa resorts just as much as hostels in Siem Reap.
Siem Reap is the perfect balance between old and new. The traditional architecture and historic artifacts next to modern buildings and shopping malls perfectly showcase the city's long history. Adding to that the many lakes, rivers and lush jungle make the city the perfect vacation destination. If you join our training course in Siem Reap, you will have the chance to explore all that the city has to offer for an entire month while becoming a qualified English teacher.
---
Check out ITTT's Blog Posts
---