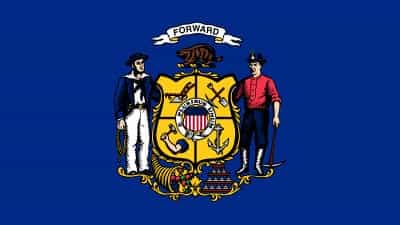 The state of Wisconsin is located in the Midwest, to the south of the famous Great Lakes. Due to this location, Wisconsin's geography is very diverse and it is home to a booming farming industry. That is why the state is also known as 'America's Dairyland'. Whether you want to escape the hustle and bustle of the city in a wooden cabin by the lake, to relax in a luxurious spa resort, or are looking for country fairs and festivals, Wisconsin will make your dreams come true.
The northwest region of Wisconsin is situated beside the deep waters of Lake Superior. This area is made for adventurers as it used to be the home of the lumberjack. Today, it is a prime destination for travelers and outdoor lovers of all kinds. Visitors can enjoy kayaking around the Apostle Islands, hiking and biking the trails of Chippewa Valley, or simply relaxing in the unique natural environment. The northeast region of Wisconsin is filled with lakes and rivers that attract water sport enthusiasts. Here, you can enjoy many activities, such as boating, whitewater rafting, fishing, water skiing, and swimming.
Tall glaciers and deep valleys mark the landscape of the southwest region. Bordering the Mississippi River in the west, this area of Wisconsin is blessed with exceptional natural beauty with charming little towns along the river showcasing Wisconsin's history. The east central region is heavily influenced by a nautical ambience. Here, you will find yourself exploring old lighthouses, sandy beaches, and taking in true coastal flavors at some of the finest restaurants in the state. This part of Wisconsin is also home to Lake Winnebago, the largest lake located entirely within the state, which offers endless opportunities for outdoor fun.
Madison is the capital of Wisconsin, which is located in the south central region of the state. This part of the Midwest is known as the 'Waterpark Capital of the World', as it features a wide selection of amusement parks. The region is also home to six Wisconsin Historical Society Sites, as well as the famous State Capitol Building and the renowned University of Wisconsin campus. Be sure to visit Madeline Island Museum, Old World Wisconsin, Stonefield, and the Sylvanus Wade House.
Besides being a premier vacation destination for outdoor enthusiasts and entertainment lovers, Wisconsin is also an important area for education. The University of Wisconsin, Marquette University, and Concordia University are among the best in the region and offer graduate and post-graduate courses to students from across the world. This is one more reason why Wisconsin is a great place to obtain your TEFL/TESOL certification. Sign up today and start your adventure teaching English abroad.